This summer, Jamaica Hospital Medical Center held a ribbon-cutting ceremony to commemorate the opening of the Thomas Santucci Jr., MD Cardiovascular Interventional Suite, named in honor of the late and beloved cardiologist and former Chairman of the Department of Medicine.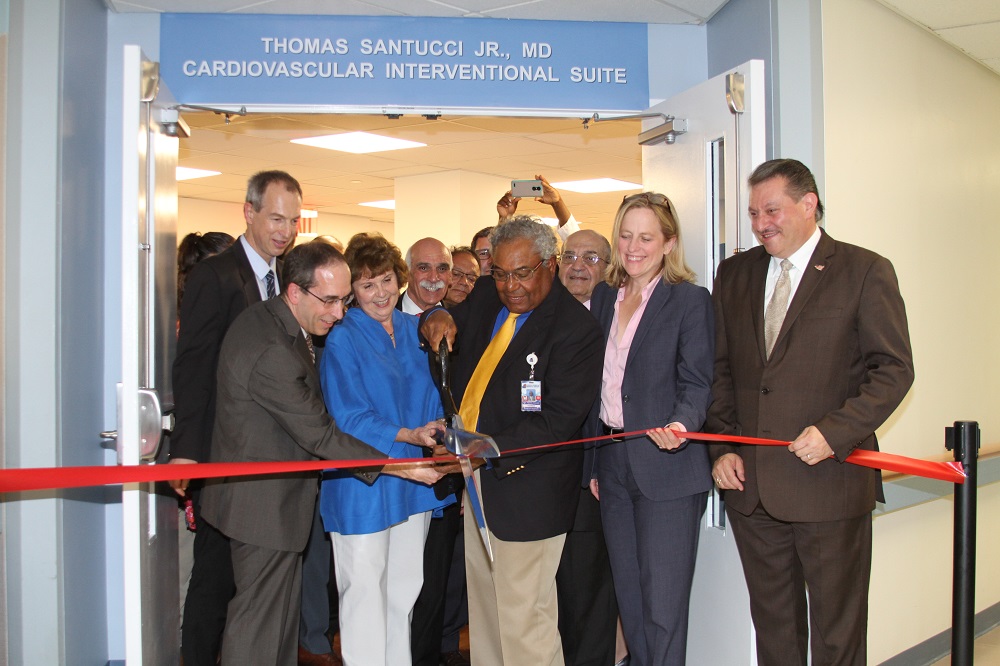 Joining the hospital for the occasion were special guests of honor: the family of Dr. Thomas Santucci Jr., Queens Borough President Melinda Katz, Senator Joseph Addabbo and members of Jamaica Hospital's Board of Trustees. Over 100 guests and the media were also in attendance.
Jamaica Hospital President and CEO, Mr. Bruce J. Flanz welcomed everyone as they buzzed with excitement, to the new, state-of-the-art cardiovascular care facility.
The suite covers 6500 square feet of space and includes two interventional labs, a six-bed recovery unit, a preparation area, as well as viewing, treatment and examination rooms. The facility is also equipped with the latest and most advanced technologies in cardiac and stroke care. Both labs feature Siemens Artis Zee Ceiling- Mounted Systems which provide high patient-positioning flexibility, affording doctors easier and full-body access to patients.
Mr. Flanz explained to guests that all features and amenities of the Cardiovascular Interventional Suite were carefully selected by the Cardiology Department with the goal in mind of meeting the growing needs of patients.
"There is a significant prevalence of diabetes mellitus, hypertension, hyperlipidemia and obesity in our area, all of which contribute to the growing incidence of all types of cardiovascular disease, including heart attacks and strokes," shared Dr. Robert Mendelson, Director of Cardiology and Chairman of the Department of Medicine. It is anticipated that admissions for cardiac disease to Jamaica Hospital will increase by 12% in the next five years and stroke admission by 11% during that period.
In addition to treating patients who live within the hospital's service area, the Cardiovascular Interventional Suite will provide emergency cardiovascular care to the many travelers who fly through JFK Airport.  Each year, approximately 2,500 people are transported to Jamaica Hospital from JFK and 10% of those emergency cases are the result of a cardiac issue or stroke.
"Given the high volume of cardiovascular and stroke cases received by the hospital, the new Thomas Santucci Jr., MD  Cardiovascular Interventional Suite will certainly be of great benefit to a significant number of people," said Mr. Flanz.