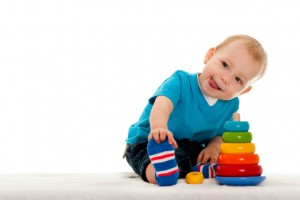 The holiday season is the best time of the year to buy toys for children. However, parents are often overwhelmed by a larger selection and choosing the best toy can become challenging.  The most important thing to remember when choosing toys for toddlers is picking toys that are safe and appropriate for their age.
Each year hospital E.R.'s are visited by over 200,000 young children, typically under the age of three, who have incurred toy-related injuries.   These injuries can be avoided if parents keep these guidelines in mind when buying toys:
Carefully read warning labels
Do not buy toys with small and removable parts
Check to see if toys are on a recall list by visiting sites such as recalls.gov or cpsc.gov.
Avoid buying toys with parts that launches or projects
Do not purchase toys with sharp edges or points
Make certain that cords or strings are shorter that seven inches
Avoid buying toys that make extremely loud noises
Check to see if toys have been tested for lead based paint by visiting websites such as www.ecocenter.org
Most toys come with warning labels that advise parents of potential choking hazards and compatibility by age group. Parents should pay close attention to these labels and also do due diligence by researching toys and inspecting them for further dangers.